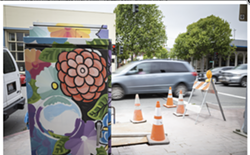 UPDATE:
The Journal has received clarification from Caltrans spokesperson Myles Cochran on the language and intent of the contract it sent to artists who painted Caltrans utility boxes as part of the Eureka Box Art program in 2018, stating that it in fact grants all control and ownership of the artwork to the artists.
While page 4 of the document reads, with bracketed text by the Journal, "ASSIGNOR [the artist] hereby conveys, transfers and irrevocably assigns to ASSIGNEE [Caltrans] all of ASSIGNOR's Copyright Ownership rights, title and interests in the Final Artwork," those rights appear to return to the artist on page 6. There it reads, "ASSIGNEE [Caltrans] grants to ASSIGNOR [the artist], pursuant to this Agreement, a perpetual, exclusive, worldwide, irrevocable, sub-licensable, royalty-free license to use and exploit the Final Artwork, including in its Preliminary Works and final Material Object form."
As to why the contract is necessary, Cochran further explained that aside from the need to repair and maintain the boxes, "the agreement also protects taxpayers from liability costs in cases such as a collision ruining a utility box, or, say Caltrans wants to post a picture regarding upcoming road work and there's some beautiful art in the picture, we can do that." He also added that concerned artists can contact Caltrans for a detailed explanation of the contract and its purpose.
PREVIOUS:
A number of artists who painted utility boxes along Broadway, Fourth and Fifth streets in Eureka as part of a the Eureka Box Art program in 2018 have received emails from Caltrans asking them to sign over the copyright to their work. The request includes no further compensation and no clear explanation of why Caltrans wants copyright ownership. For some artists that offers little motivation to sign.
Blake Reagan, whose floral design sits at the corner of Fourth and F streets, was paid a $500 stipend for labor and materials two years ago when he spent four days painting the box. Not that he was in it for the money. "It was definitely not a profitable job. It was an opportunity to do some live public art," he says. At that time…



Source link